Thorsten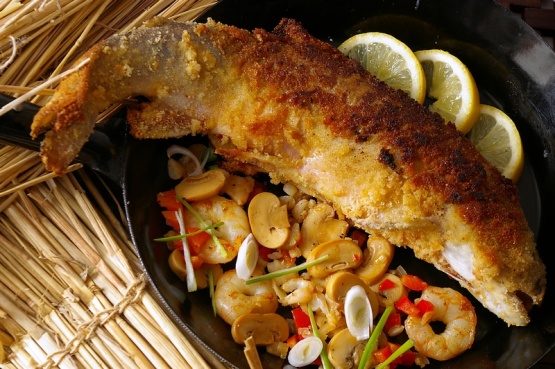 I like making this dish when we go camping, if we are lucky enough to catch some trout. A couple of time I've used canned baby shrimp and a jar of chopped roasted red peppers. It works pretty well, but then again, everything tastes better when you are camping.

You don't have to go camping to find this fish dish delicious and I guess it would work with other whole fish too. What I liked best is, that the fish is already filled with its own "side dish". The recipe is easy to make and the breadcrumb crust prevents the fish from burning in the pan too. I really enjoyed it. Thanks for sharing.
Start with shrimp stuffing; sauté onions and mushrooms in butter in skillet until lightly browned.
Add salt, white pepper, red peppers, green onions, shrimp and sherry.
Simmer over medium heat until liquid is reduced to glaze, stirring occasionally. Cool.
Meanwhile, dredge each trout in flour, dip in eggs, and then roll in breadcrumbs to coat lightly.
Carefully fill each trout cavity with Shrimp Stuffing.
Secure seams with wood toothpicks.
Melt butter in a large skillet.
Sauté trout in butter, few at a time, until lightly brown on both sides and until stuffing is hot.
Remove trout as done and keep warm.
Add lemon juice and zest to butter remaining in pan and heat few seconds. Season to taste with salt and pepper.
Pour over trout.