Rita1652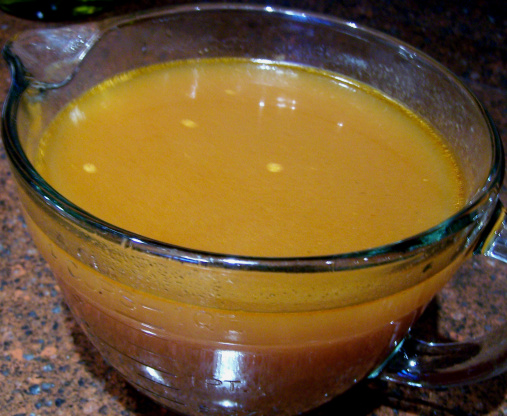 Great for Gumbos, Thai soups, seafood bisque... The fish heads have lots of flavor but if you can't handle it just use the shells from the body, you'll just have to use twice or triple the shrimp shells. I collect my shells and freeze till I have enough to make stock with.Go ahead and use crab and lobster shells if you want.

Top Review by PatMe
This is FANTASTIC. I have made this twice now, using saved up shrimp and lobster shells (about 2 gallon sized freezer bags full). Followed the rest of the recipe exactly except omitting fresh parsley (used 2 Tbs dried instead). This is great for any type of fish soup or stew. Makes a ton - so I freeze much of it for use later (just filling up the freezer space from the shells I used!!). Thanks Rita for a fantastic recipe!! (I have used this with your bouillabaisse recipe #190012.)
Rinse the shrimp heads and shells under cold water, and place them in a stockpot with the remaining ingredients.
Bring to a boil over high heat.
Reduce the heat to low and simmer for 45-60 minutes. Allow to cool thoroughly, strain and refrigerate or freeze.
Alternative method:
Heat 1 tablespoon olive oil on stock pot. Add veggies and shells and caramelize about 5 minutes add remaining ingredients.
Bring to a boil reduce heat to low.
Simmer for 45-60 minutes.