Shrimp Stir Fry With a Kick
teresas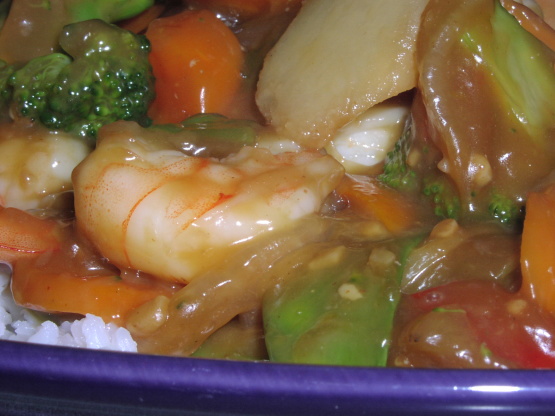 I threw this recipe together for supper one night and it was excellent. I just had to share it with you guys. My mother-in-law got me started using the Ziplock Steming bags and as a working mom, they sure come in handy. This recipe was prepared using the bags, but you could also stir fry anyway you like. The vegetable variety could also be left up to your personal preference. My family loves broccoli so we use that along with our other vegetables. Frozen or fresh could be used for added convienence.

Yummy, this was excellent! I am glad you shared this one. I changed up the ratios a bit b/c of the size of my ingreds, but it still ended up making a lot of food. I used the full 1/2 lb of shrimp (I used med size, already cooked and frozen b/c I hate deveining), only half an onion, but half a red, green, and yellow bell pepper, half a package of slcied mushrooms, only 1 head of brocolli florets, the 1/2 cup snow peas, and 7 baby carrots, julienned. I made the full amt of stir fry sauce, using 1 1/2 tsp of hot sauce, which was perfect imo, not too spicy, not too bland. I did decide to buy the Ziploc steam bags to try them out. The timing was perfect, although I got the largest size they had (25x22 or something), I had to split up the ingredients into 2 bags and cooked each for 10mins. Veggies and shrimp were perfect, flavor was great. Bf liked it too. We had this over white rice. I did use low-sodium soy sayce (using 4 tbsp) and 1/2 tsp minced jarred garlic. I got impatient with the thickening, so I'm not sure how much longer it would have taken to thicken. I will make this again. It was very healthy and full of delicious veggies and good flavor! Made for Please Review My Recipe tag game.
Combine all ingredients for sauce in a small bowl. Put aside and let set.
Prepare Vegetables and place in large steaming ziplock bag.
Add shrimp.
Poor sauce over and close bag.
Shake bag and place in microwave and cook on high for 10 minute.
Remove from bag into large pan.
Combine water and cornstarch until smooth.
Stir into stir fry in pan. You may have to repeat this until you get it to the thickness of your liking.
If you prefer to stir-fry using a pan:.
Prepare sauce and vegetables as above.
Place vegetables into pan and saute over medium heat for 5 minute
Add sauce and shrimp and saute anther 5 minute.
Then thicken with cornstarch and water.