Bergy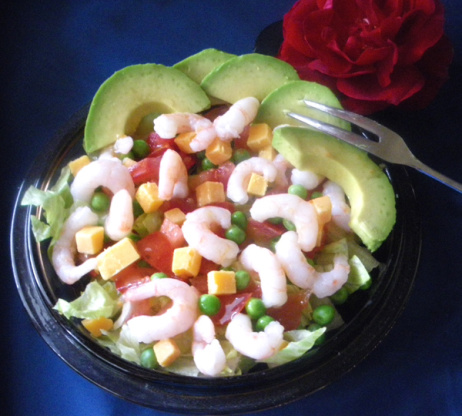 This is a lovely way to start your dinner party - The salad makes a colorful presentation and has a great combination of flavors. Double the recipe for larger groups. Serve the salad in individual bowls, arranging each ingredient artistically. Get everything ready ahead of time, except the avocado , slip the ingredients into the fridge in separate bowls then assemble just before serving. Use your favorite dressing or offer a choice of dressings to your guests and let them add it at the table. Personally, I like Zesty Italian dressing. Simple Easy and elegant looking salad! Enjoy
Salads don't have to be complicated to be good. This salad was so easy to put together and I had all the ingredients at home.
Distribute the lettuce to cover the bottom of 4 individual bowls or plates.
Arrange the chopped tomato on top of the lettuce.
Sprinkle on the peas (if using frozen have the peas fully thawed but uncooked).
Chop the cheese to 1/4" size and spread it evenly over the salads.
Arrange shrimp on top.
Place slices of Avocado On one side on the edge of the salad.
Serve dressing of your choice at the table.