Capn Ron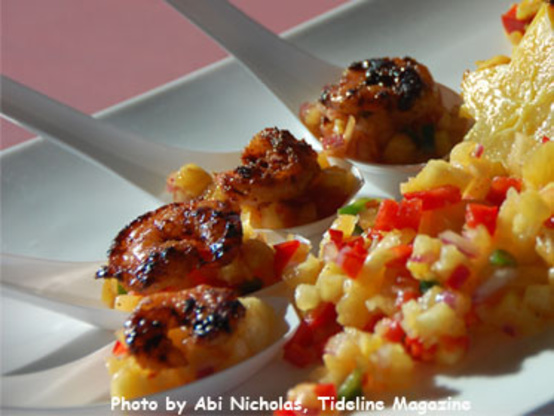 Whenever I cook for an Hors D'oeuvres party, everyone's always looking to see what type of shooter I'm going to do, this time. This is one of my most popular ones. As in all my recipes, if you want this one to be "hot", just use more blacken on the shrimp. This is not the recipe where you want to use large expensive shrimp. I use 41 - 50 count which are a single mouthful after you've cut them in half.
1⁄4 lb shrimp, Cleaned and deveined
1 1⁄2 tablespoons cajun seasoning, Butt Kickin' Blacken, Original Recipe
butter and vegetable oil, for frying
jerked pineapple salsa
replace the cajun seasoning, Jamaican Jerk Seasoning with Original Recipe
1. Clean and devein the shrimp, and coat well with the Butt Kickin' Blacken.
2. Heat a fry pan to medium / high, add the butter and oil, then enough shrimp to barely cover the pan. Don't put more than one layer in at a time, because they won't cook evenly.
3. Turn the shrimp after about 2 minutes, and continue to cook for another minute. Is you cook them too long, they'll come out real tough.
4. Slice the shrimp in half, and set aside.
5. To serve:.
Place some of the salsa in an Asian soup, place one of the shrimp halves on top.
You can kick this up a little more, by adding a little rum to the salsa.