Shrimp Scampi With Pasta Alfredo
Boomette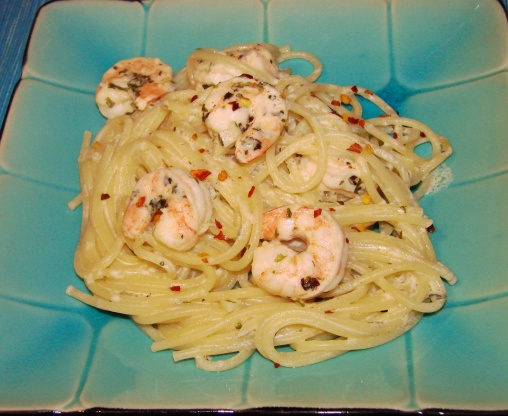 It just doesn't get any easier than this! Not including the marinating and pasta water heating time, dinner is on the table in ten minutes. My family has been passing around this little jewel of a recipe for a couple of years and I usually make it about twice a month. I just eyeball the amount of ingredients, so use your own judgment if things don't look right. To make it even easier, I usually prepare the raw shrimp/marinade mixture in Ziploc bags and stuff them in the freezer for super-quick mid-week dinners (I cook the shrimp without thawing them-justs takes a minute or two longer). My mom likes to add 1/2 teaspoon of dry mustard to her marinade, but I omit it due to personal preference.

LOVED the shrimp! I used 1/2 of the salt it called for and it didn't seem to need any more.I have my own recipe for Alfredo, but I did try this one the first time and it was easy and tasted good. The shrimp is the star though. I now use this as my go to marinade for lots of shrimp dishes. I also love the idea another reviewer had..double the marinade, finish with about 3T of butter, and toss the whole thing with some angel hair pasta. It's AMAZING, and I've made it countless times since I first tried it.
Marinate the shrimp in the other ingredients until you are ready for them.
Thirty minutes before you are ready to serve, start heating the pasta water and place the half-and-half and butter in a large serving bowl to soften (sometimes I nuke it in the microwave for a minute or two).
Put a large skillet over high (or medium high) heat to get it really hot.
When the pasta is about three minutes away from being done (done=al dente), dump the shrimp and marinade into the hot skillet.
Toss the shrimp around as they cook.
Once the shrimp are pink and curled-up (about three minutes), remove the skillet from the heat.
Drain the pasta and dump it into the serving bowl with the half-and-half and butter.
Add the Parmesan cheese, a pinch of salt and a few grinds of black pepper and toss together gently (the residual heat from the pasta melts everything together).
Pour the shrimp and sauce over the top and serve immediately.