Shrimp Scampi Potstickers
Food.com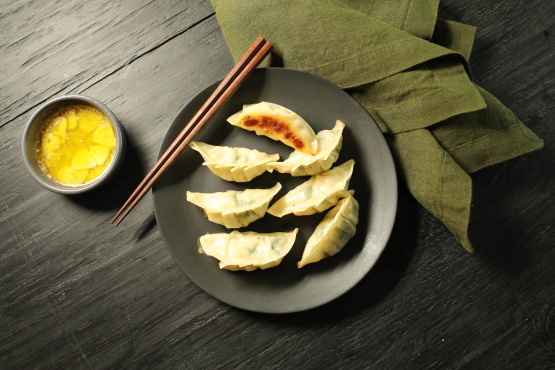 Stuff shrimp scampi into these irresistible potstickers.
This could be a great simple recipe if all the directions were included. Major fail food.com Set your stove top to just above medium. About half way through the steaming part, lower temperature to medium low. Always check for doneness! Different stove tops cook differently. The shrimp used in the recipe is raw. Yes, you can use cooked shrimp in the recipe. Reduce the second cooking time to about 6 minutes (long enough to heat through). The first cooking time (the 'few minutes') should be about 4 minutes. You want to crisp up the bottom a little. Don't move or stir the dumplings between cook times. Yes, you can definitely use broth/stock in place of white wine. You can also use white grape juice. Yes, you could use ground pork/chicken/beef. However, these meats have longer cooking times, so I suggest cooking them before making the filling for the pot stickers. Need a new recipe writer, Food.com? Let me know!
Roughly chop 1/2 the shrimp into large pieces; fine chop the other half.
Add white wine and corn starch then mix.
Add garlic, olive oil, lemon juice, Italian seasoning, parsley, parmesan cheese, salt & pepper, and butter; mix well.
Fill one dumpling wrapper with about 1 tbsp of the mixture.
Seal with water and wrap. Repeat for remaining wrappers.
Oil a pan and place the dumplings, heat for a few minutes.
Add 2-3 tbs water; place lid; cook for approx 10 mins.
To make the dip, place all ingredients in a pan and low heat until the butter is melted.