Shrimp Scampi Potstickers
Food.com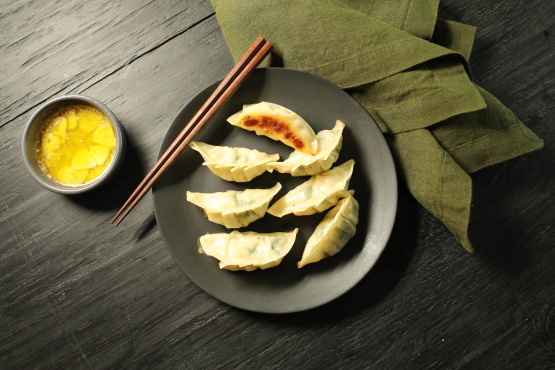 Stuff shrimp scampi into these irresistible potstickers.

I used to be scared of cooking shrimp at home — for no good reason — but after making these potstickers, I can't get enough. I think the combination of classic flavors (hello, butter and garlic!) plus the fun activity of stuffing the dumplings made the whole process so fun and tasty. I'm going to be making these for a dinner party I'm hosting next week, and I know everyone is going to be asking for the recipe.
Dumplings:.
Using peeled and deveined raw shrimp, roughly chop 1/2 of the shrimp, leaving some larger pieces. Then finely chop the remaining shrimp until it is minced. Add all the shrimp, both rough and fine chop, to a medium-sized mixing bowl.
To your mixing bowl with the shrimp, add the white wine and cornstarch, mix gently, with a folding motion, until combined and the cornstarch has dissolved.
Now, to the same bowl, add the garlic, olive oil, lemon juice, Italian seasoning, chopped parsley, parmesan cheese, butter, salt and pepper. Mix well, with a gentle folding motion.
Fill and fold one dumpling at a time. To start, place a small bowl of cold water within reach. Then place one wrapper on the palm of your hand, fill with 1 tbsp of the shrimp filling. Be sure not to overfill.
Using your free hand, dip your finger in cold water, and run along the edge of the wrapper (this helps the dumpling wrapper seal itself shut).
Fold the wrapper in half, and pinch and fold around the edge sealing in the filling. (Watching the recipe video will provide helpful cues for the best folding techniques, link available at the top of the Directions).
In an oven-safe skillet, drizzle 1-2 tablespoons olive oil and tightly pack in your dumplings. Heat over medium heat for 5-7 minutes until the bottoms are golden brown. Feel free to pull out one dumpling to see if it has browned on the bottom before moving onto the next step (but generally don't move the dumplings around or the bottoms will not brown evenly).
Once the dumpling bottoms are golden brown, add boiling water to cover the bottom 1/3 of the dumplings. Cover with a lid and let steam for 5-10 minutes or until the shrimp is cooked through. Timing may vary depending on how finely you chopped your shrimp.
In the meantime, make your Garlic Butter Sauce:.
In a small saucepan over low heat, add butter, sliced garlic, salt and pepper to taste. Cook until the butter is melted then remove from heat. This is best done while the shrimp is cooking, so both are ready at the same time.
Serve your dumplings with the butter sauce and enjoy!