Rita1652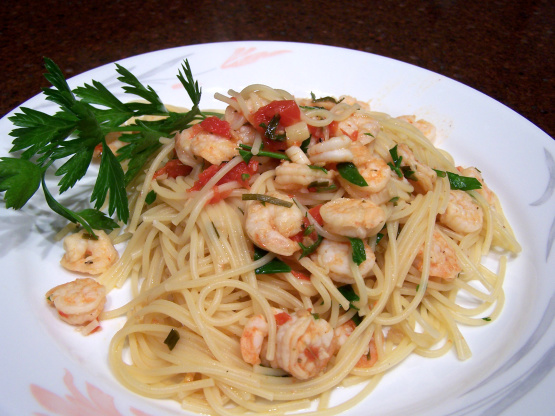 A healthy twist on Shrimp Scampi, from Holly Clegg's a Trim and Terrific Louisiana Kitchen.

Wonderful light shrimp scampi recipe. Flavors and colors were great. First time making schrimp scampi and I will never make it another way. I used 1 pound 8 ounces frozen shrimp, dethawed, and enlarged the recipe accordingly. Perfect amount with one box of linguine. I also used dried parsely and it worked fine.
Heat margarine in large skillet and saute'shrimp until it begins to turn pink. Add garlic and green onion, cooking for 1 minute longer.
Add chicken broth, tomato and seasonings. Cook about 5 minutes, or until shrimp are fully cooked and sauce has thickened slightly.
Serve over rice or pasta.