Stacky5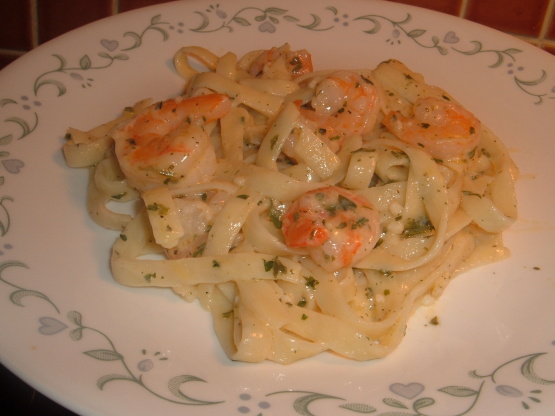 I love shrimp scampi and this is an easy recipe from a magazine.

This is the most amazingly wonderful shrimp scampi recipe I have ever found!!! I'm not kidding here...It's an absolute perfect blend of flavors, and I think the lemon juice gives it a subtle "zing" flavor that other scampi recipes don't have. I made the recipe as written and then tossed cooked fettucini in the pan with it, added a couple of shakes of Parmesan cheese, and it was an wonderful, gourmet meal that had me saying "MMmmm ... MMmmmm ...OMG ..... MMmmmm" the whole time! It's a Newly Found Favorite of mine, and it's so easy that I'm going to use this recipe to impress guests (and family) from now on! Thank you for sharing Luvs2Cook!! :)
Peel and devein shrimp and set aside.
Cook linguine or fettucine according to package directions. Place in a large bowl, keep warm and set aside.
Melt butter in large skillet over medium heat. Add garlic and shallots and cook, stirring constantly, 5 minutes or until tender.
Add shrimp and cook over medium heat 3 to 5 mnutes or until shrimp turn pink. Add wine and remaining ingredients.
Pour shrimp mixture over pasta, tossing to blend.
Serve immediately.