Shrimp, Scallop and Sausage Jambalaya
KateL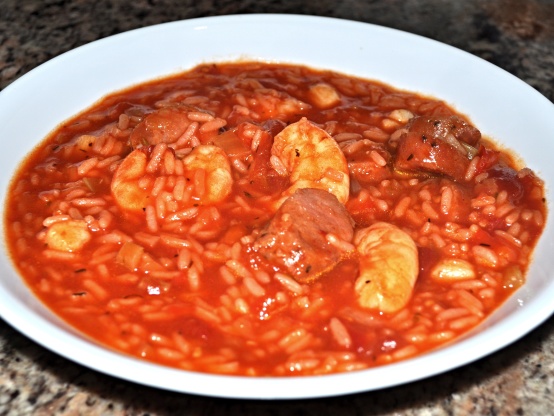 I used to cook Zatarains jambalaya all the time. I still do, but this version really is great. The scallops add a little sweetness and
Against my better judgement, I followed the directions as far as cooking. The rice was completely mush by the end of the cooking time, which I anticipated, but I read the reviews and did it anyway. What a waste of perfectly good seafood. And I'm not a beginner cook. It needed way more seasoning than what the recipe calls for. I will not be making this again......good luck if you attempt it!
In a large skillet, heat the oil over medium heat. Add the onion, celery, and bell pepper and cook, stirring often, until the onion is softened, about 5 minutes. Add the rice and garlic and cook, stirring constantly, for 1 minute. Transfer the mixture to a 3 1/2 quart slow cooker.
Add the tomato juice, clam juice, water, Worcestershire sauce, thyme, oregano, salt, black and cayenne peppers, and break up the tomatoes with the side of a spoon. Cover and slow cook until the rice is barely tender, 5 to 6 hours on low.
Meanwhile, in a medium skillet over medium heat, cook the sausage, turning often, until browned, about 5 minutes.
During the last 15 minutes of cooking, stir the sausage, shrimp and scallops into the jambalaya. Increase the heat to high (300°) cover, and cook just until the shellfish are firm. Serve immediately.