Rita1652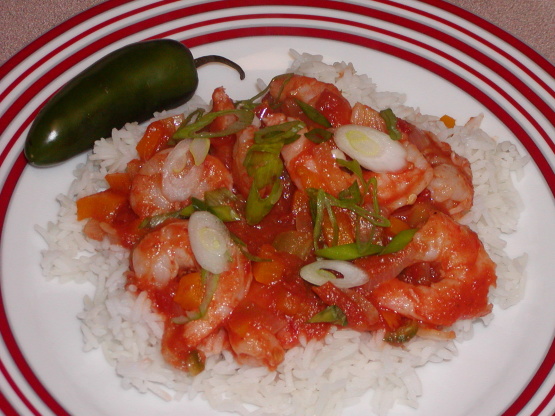 This Paul Prudhomme recipe (that I found on the internet somewhere) is only for the true chile head- but if you are one (like me) it just doesn't get any better than this. He mentions in his notes that the amount of jalapeno in the recipe can be halved for a lower heat level, but if you are worried about that, this recipe is definitely not for you. OOOH, it hurts so good !!!

I have been planning on making this recipe for a while, and I am sure glad that I finally got around to it. This recipe is great. DH is used to trying new recipes and is always happy to give me his opinion. He raved about this recipe. I used 1 large jalapeno pepper and about 1 1/2 teaspoon cayenne pepper. It was plenty hot. I knew I couldn't quite go to you level of heat!!!!! This will be a regular around our house. I did cook the shrimp for a couple of minutes before turning off also.
Melt the butter in a 4-quart non-stick saucepan over high heat; add the onions, bell pepper, and celery and saute for about 2 minutes, stirring occasionally.
Add the tomatoes, tomato sauce, jalapeno, bay leaves, ground peppers, and garlic, stirring well; cook about 3 minutes and stir often.
Stir in the stock, sugar and salt and bring to a boil.
Reduce heat and simmer until flavors are married, about 20 minutes, stirring often.
Turn the heat up to high, and when the sauce is boiling, remove from heat.
Add in the shrimp, push them down in the sauce, cover the pan and let sit for 10 minutes.
Remove bay leaves.
To serve, mound 1/2 cup cooked rice in the center of each serving bowl, then pour about 1/2 cup sauce around the rice and arrange 8 shrimp on the top of the sauce.
Serve with a cool beverage of your choice-- you'll need it!