Demandy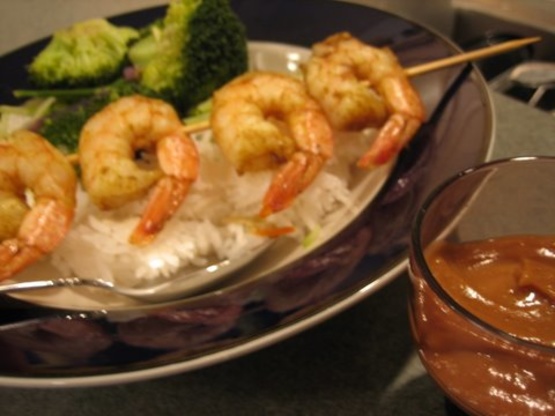 Shrimp rules at my house. My husband made these delicious skewers and I am reminded why I love this man so much .

The shrimp were good but I felt that the sauce was too sweet. If I were to make again I would leave out the sugar and perhaps use all-natural peanut butter instead. I prepared this with Light Coconut Rice, #152997 and some steamed vegetables. A healthy meal. Thanks, NurseDi.
To make the sauce: in a saucepan, whisk together all the sauce ingredients with 1/4 cup water.
Over medium heat, bring to a simmer; cook 1-2 minutes to thicken; set aside To make the shrimp: In a small mixing bowl, add the cumin, salt, ginger, and curry powder; stir to mix.
Put shrimp into a medium-size mixing bowl; drizzle with peanut oil and toss to coat.
Sprinkle spice mixture over the shrimp; toss to coat.
Cover and refrigerate for 20-30 minutes.
Thread shrimp on skeweres.
Grill over direct high heat for 2-4 minutes or until just opaque in the center and firm to touch (turn skewers halfway through grill time).
Serve warm with satay sauce.