Shrimp Salad With Zucchini and Basil
Obag6142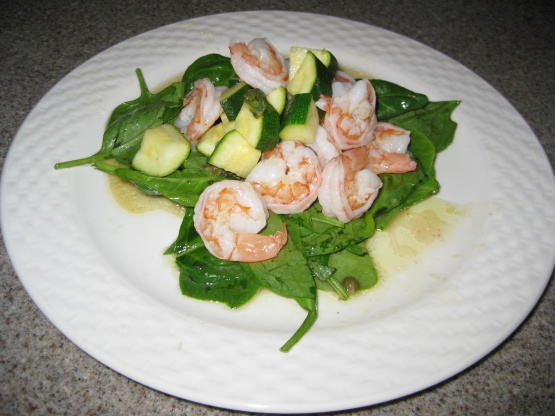 Was checking out an old Bon Appetite annual while thinning out my "Paper and Picture" cookbooks, since I most often use Zaar. The zukes are still coming and the basil is lush, green, aromatic, and beautiful. Everything here is on our go-to list, and the photo was tempting, too. It was suggested that you use packaged baby greens for a quick start.

I also made this for the Aussie Swap. Delicious! Easy! Flavorful! Great presentation too; this makes a perfect fancy lunch for guests or a light but satisfying dinner (perfect for spring or summer meals). It is so cool to see the shrimp cook in the boiling water. I used baby spinach for the salad greens. I was concerned that, with the spinach, the dish wouldn't be colorful enough but I need not worry: the pink shrimp and yellow and light green of the zucchini and deep green of the spinach gave a great "Wow" moment when I brought the dish to the table for my guests. One note: be careful not to drown the salad with too much dressing (I made enough dressing for 4 servings but made only 2 salads). The lemon juice is a surprisingly bold flavor. Thanks NurseJaney. This is an excellent, excellent recipe and I will definitely be using it again to impress guests that I've graduated from novice to gourmet chef.
Whisk lemon juice, capers, shallot, mustard, and dried red pepper in medium bowl.
Whisk in oil, then basil.
Bring large saucepan of salted water to boil, add shrimp and cook 1 minute.
Add zucchini and continue cooking until shrimp are opaque in the center, and zucchini is crisp tender, about 1 minute longer.
Drain well.
Transfer to large bowl.
Add 1/3 cup of dressing and toss to coat.
Season to taste with salt and pepper.
Toss greens in large bowl with enough dressing to coat.
Divide greens among 4 plates.
Arrange shrimp and zucchini atop greens.
Pass Parmesan cheese separately if desired.