Shrimp Salad With Avocado, Celery and Red Onion
Parsley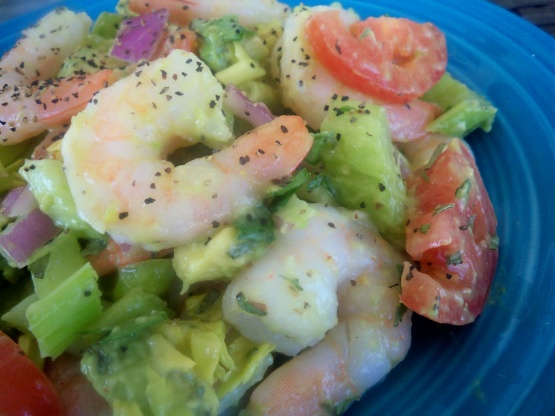 Wonderful salad for summer! Please note: this is an adopted recipe and I hope to make it soonest. If you make it before I do than I would appreciate your feedback. Thanks ! ZWT REGION: Austrialia
I was looking for a recipe to using up and excess of shrimp and celery I had left over. Every other recipe I found needed "two cups of mayonnaise." But this recipe does not and proves that artery clogging mayonnaise does not need to be the base of a delicious, healthy salad. I've made it five times in the last two months since finding it. Thank you so much.
Whisk together olive oil and lemon juice, and season with salt and pepper. Set aside. Whisk again just before using.
Combine shrimp, avocado, celery, scallion, tomatoes, parsley and red onion.
Sprinkle with enough dressing to coat lightly.
Toss shrimp salad gently, and season to taste with salt and pepper.