vrvrvr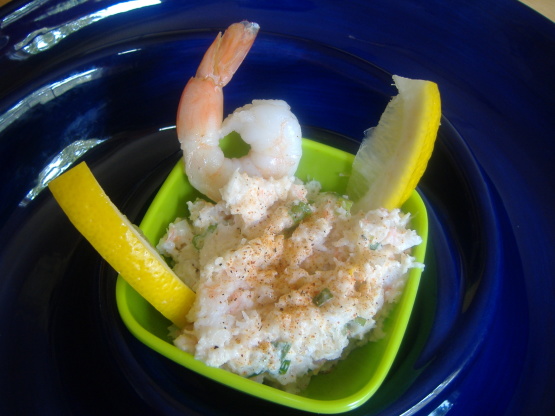 An adaptation of Paula Dean's sandwich spread, but made for dipping. It can be inexpensive and the best at the party! A food processer dream recipie

Top Review by vrvrvr
Very tasty! I made a couple changes - I used green onion instead of celery, I omitted the hard-boiled eggs, and I added a little lemon zest and cayenne to the spread. Tastes great on Wheat Townhouse crackers. Very fresh and lemony (we love lemon.) Easy to toss together and my husband wants to make a giant sandwich with it. Thanks!
1

lb cooked shrimp, cleaned (any kind)
1⁄2 cup mayonnaise
1⁄2 teaspoon salt and pepper
1⁄2 teaspoon onion salt

1

teaspoon Old Bay Seasoning (to taste)

2

teaspoons fresh lemon juice

1

teaspoon paprika (to garnish)
Mince shrimp in food processor--spatula out in mixing bowl.
Cut up celery and mince finely in processor--add eggs cut in half and pulse to a mince. Add all to bowl.
Add mayonnaise and seasonings except for paprika and fold/mix.
Add to serving bowl,sprinkle with paprika serve with Melba toast/ sociables / crackers of your choice. Refrigerate before serving.
Make sure the Old Bay is added just right and it will be the best at the party, guaranteed!