loof751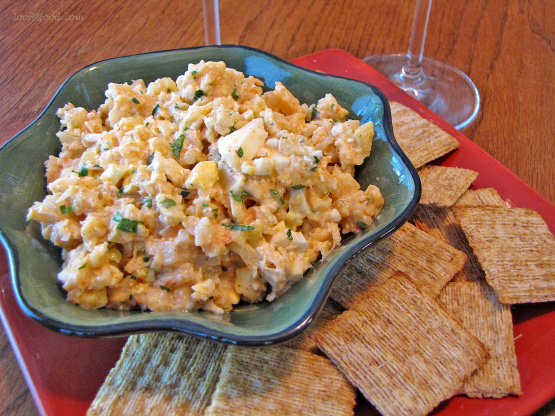 *Raekjusalat" in Icelandic, this shrimp salad recipe is from *Cool Cuisine* (Traditional Icelandic Cuisine) by Nanna Rognvaldardottir. Per her intro, "Salad dips like this have been very popular in Iceland since the 1960s. They are usually served on crackers at parties or used as sandwich filling much like in the U.S." (This recipe begins w/eggs already hard-boiled, so that cooking time has not been included" *Enjoy* !

Delicious seafood spread! I made half of the recipe and used chopped parsley instead of chives. I liked the subtle sweetness that the pineapple added. Served on triscuits and really enjoyed - thanks for sharing the recipe! Made for ZWT9, The Apron String Travelers
Chop eggs & shrimp as desired.
Combine all ingredients & mix well.
Refrigerate at least 2 hrs before use.
NOTE: Serving sizes will vary & depend upon whether used as a dip/spread or a sandwich filling. I reflected 2 oz appy servings & would expect 8 sandwiches using 3 oz servings.