Annacia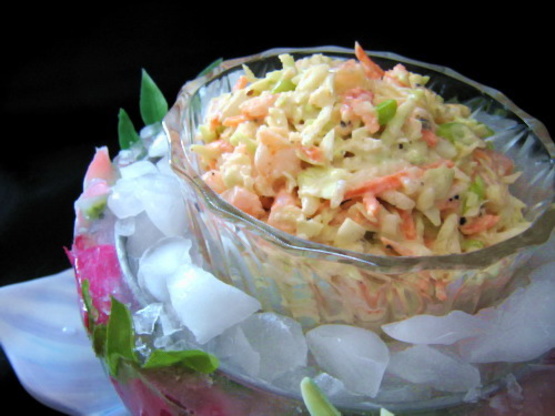 Wonderful filling for a sandwich or could be spread on crackers. This is great.

Made your recipe pretty much as given, though I did start with just 3 tablespoons of lemon juice & then added just a teaspoon more! Also started with the 1/3 cup of mayo & found that to be just right for us! Really liked the crunch of the water chestnuts! Finally, since I was serving this as one of several salads, I sprinkled the chopped tomato over the entire bowl & it was ready for the table! This was a great tasting salad, & one I'll be happy to add to my summer salads list! Thanks for sharing the recipe! [Tagged & made in Please Review My Recipe]
Bring water to a boil; add shrimp, and cook 3 to 5 minutes.
Drain well; rinse with cold water.
Peel, devein and coarsely chop shrimp.
Combine shrimp, cabbage, carrots, tomatoes, green onions and water chestnuts in a large bowl; toss gently. Set aside.
Combine remaining ingredients in a small bowl; mixing well.
Add mayonnaise mixture to shrimp mixture; toss gently to combine.