Parsley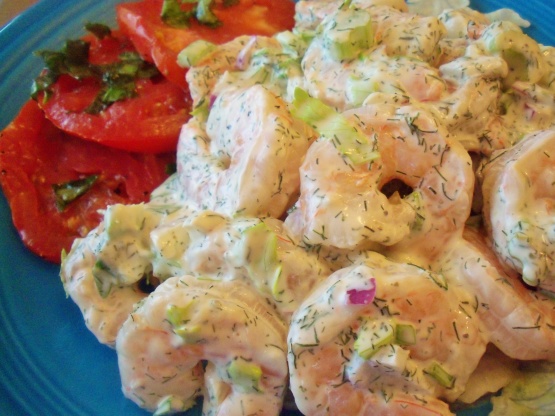 I got this from the Barefoot Contessa's book "Parties!" and i use it alot. It is a big hit and easy to make. The time does not include the chilling time as this can be made the night before or earlier in the day.
Bring 5 quarts of water, 3 tablespoons salt, and the lemon to a boil in a large saucepan.
Add half the shrimp and reduce the heat to medium.
Cook uncovered for only 3 minutes or until the shrimp are barely cooked through.
Remove with a slotted spoon to a bowl of cold water.
Bring the water back to a boil and repeat with the remaining shrimp.
Let cool; then peel, and devein the shrimp.
In a separate bowl, whisk together the mayonnaise, mustard, wine or vinegar, 1 teaspoon salt, pepper, and dill.
Combine with the peeled shrimp.
Add the red onion and celery and check the seasonings.
Serve or cover and refrigerate for a few hours.