Nif_H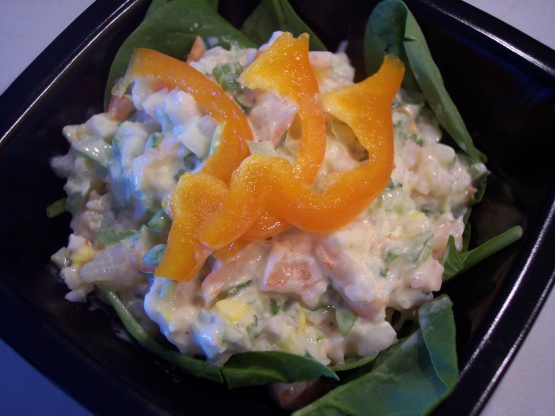 This is really good stuffed in a fresh tomato, in an avocado, or served with a lettuce wedge. Great for these hot summer days. The instructions are for fresh shrimp; if using frozen, follow the cooking directions on the bag...they may take longer to cook (just a little longer...do not overcook the shrimp).

Top Review by Nif_H
I made this using Old Bay as the crab boil and red pepper instead of the green and red. This is creamy, flavourful, and was terrific over fresh spinach. I wouldn't miss the egg if it wasn't in there in case you are in a hurry and want to make this. And thanks to gailanng, I Slap Chopped it all! Made for 1,2,3 Tag. Thanks! :)
Clean and devein shrimp. Bring 1/2 gallon of water, crab boil, and 2 teaspoons of salt to a boil. Add the shrimp and return to a boil. Remove from the heat, drain, and ice down the shrimp to stop them from over cooking.
Drain shrimp again and chop coarsely. Then add the green pepper, celery, green onions, egg, parsley and mayonnaise. Mix together well. Add salt and pepper to taste.
Serve in tomatoes, avocados, or with a lettuce wedge. Top with strips of red bell pepper. Garnish with a wedge of lemon.