Shrimp Sahanaki with Greek Cheeses and Tomatoes
Thorsten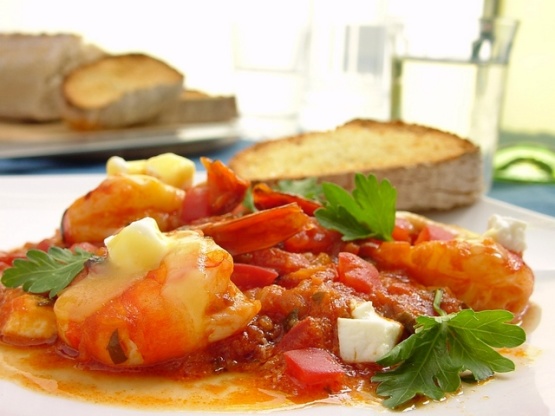 This is a fantastic Greek appetizer/main dish. Serve with a glass of chilled white wine and lots of bread for the sauce.

this is so wonderful! i usually cook my shrimp and scallops with anissette, for that anise flavor. this time i used sambucca instead of ouzo. i used alot of fresh basil because i was out of parsley, 6 plum tomatoes, and otherwise followed the recipe, i loved the cheeses which just thickened the sauce, taste was sublime-
1⁄3 cup olive oil

1

medium onion, finely chopped

1

lb tomatoes, peeled,seeded and chopped

4

tablespoons chopped parsley

1

clove garlic, minced

1

pinch cayenne
1⁄4 cup ouzo

1

lb large raw shrimp, peeled and deveined (tails left on)

4

ounces feta cheese, crumbled

4

ounces kasseri cheese, cut in ½ inch cubes (use gouda at a pinch)
1⁄4 cup minced parsley
fresh crusty bread
Heat 1/3 cup oil in medium saucepan over medium heat.
Add onion and sauté until golden-brown, about 12 minutes.
Add tomatoes, 4 tblsps parsley, garlic, cayenne and ouzo.
Season to taste.
Bring to boil.
Reduce heat, cover and simmer until sauce thickens, about 25 minutes.
Add shrimp to sauce and cook for a further 6-8 minutes, until shrimp are cooked through.
Remove from heat.
Sprinkle feta, kasseri and parsley over and cover with lid of saucepan.
Allow to sit for 5 minutes, until cheeses have started melting.
Give a gentle stir to distribute cheeses and distribute amongst serving plates.
Use crusty bread to dip into the delicious sauce.