Shrimp & Polenta Italian Bowl #Ragu
joseel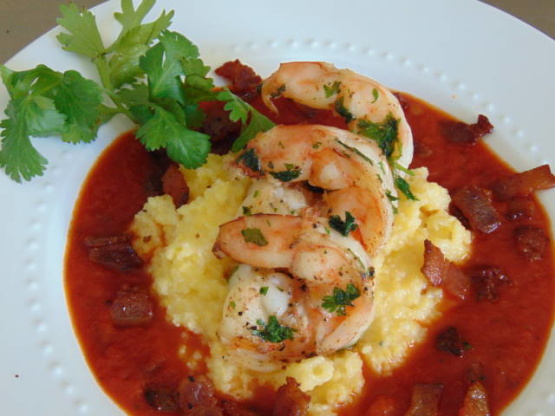 Ragú® Recipe Contest Entry. This is the perfect family meal it's hardy and packed with flavors the Ragu chunky mushroom sauce is the perfect base for the cheesy and creamy polenta with cilantro sautéed jumbo shrimp top with crispy bacon.
Cut bacon into ¼ inch cubes add to a deep medium non-stick pan sauté on medium high heat until bacon is crispy. Remove bacon place on paper towel to drain excess fat.
Discard bacon fat from pan reserving 1 tablespoon add shrimp and cilantro to bacon fat and sauté on medium high until shrimp turn pink remove shrimp and set aside to the same pan add Raju sauce stir to pick up the flavors of bacon fat and cilantro reduce heat to medium cover and let it warm up.
While sauce is warming up in a medium pan over high heat, bring water and salt to a boil, and gradually stir in polenta. Reduce heat and simmer gently, stirring frequently to prevent sticking until mixture thicken and is creamy add butter and cheese mix until well incorporated.
To serve add ½ cup sauce to 5 bowls top each with equal amount of polenta, 3 shrimp each and sprinkle with equal amount of cooked bacon you may garnish with additional cilantro serve immediately.