Shrimp Pizza With Spinach and Caramelized Onions
Heirloom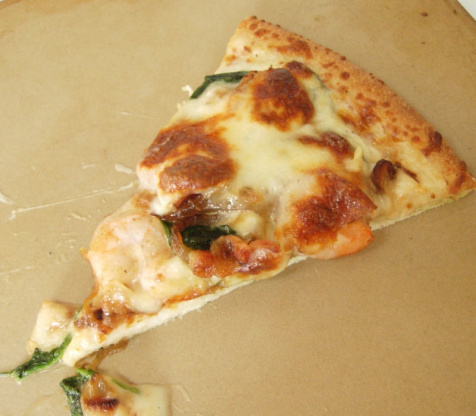 I had some left over shrimp from last night's po' boys and decided to try them on a pizza. I used the Reduced Fat Alfredo Sauce from Chef #18650 for the alfredo sauce.

I thought this was, all in all, pretty tasty and a lovely way to eat Maine shrimp. DH really liked it. I added some yellow bell pepper, a few mushrooms and a little crabmeat because they needed using, and only 1/2 c. alfredo sauce. Next time I may also add a little garlic. We had some trouble with the crust - made our own, a new venture - and it took much longer than the designated 8 - 10 mins. to cook. That is obviously our problem, not the recipe's. Nonetheless, if I repeat with a homemade crust, I may cook that with cheese and veg a bit first before adding delicate shrimp. Thanks for this keeper.
Preheat oven to 450 degrees F.
In a large skillet melt butter over medium heat and cook onion until caramelized, about 6 minutes.
Remove onion onto separate plate, set aside.
In same pan sauté shrimp until bright pink and cooked through.
Remove shrimp to separate plate, set aside.
In same skillet drizzle 1/2 tablespoon olive oil.
Sauté spinach until wilted, remove pan from heat.
Place pizza crust on stone or on baking sheet, spread alfredo sauce out evenly over crust, leaving 1/2 inch border around crust.
Spread spinach, onions, shrimp and mozzarelly evenly.
Season with salt and pepper to taste.
Bake for 8-10 minutes or until cheese is melted and dark brown in spots.