twissis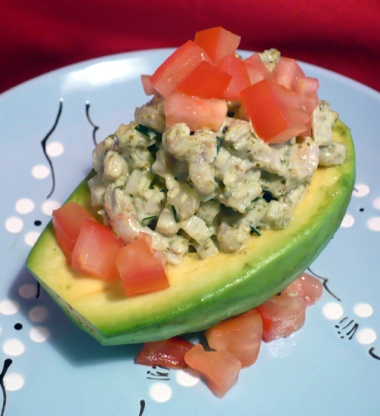 A delicious, refreshing salad. Easy to make, always a hit! Makes a great luncheon or side dish. To make it even easier pick up some ready-to-eat cooked shrimp.

Made for the Aug Aussie/NZ Recipe Swap + Aug Seafood Photo Challenge, this tag was a selfish 1 as DH is not esp fond of avocado but I adore them as a legacy of my Dallas dys. To my surprise, he liked this a lot. I made it as written using pre-cooked Icelandic baby shrimp & fresh-snipped chives. I took the pic & then added a generous sprinkle of lemon pepper as a shared pers pref. This excellent recipe will be repeated now that I found an avocado dish he really likes. Thx for sharing the recipe w/us. :-)
Mix the first six (onion, celery, shrimp, chives, pesto, mayonnaise) ingredients together in a small bowl.
Peel and halve the avocados. Carefully remove the seed.
Slice a thin layer off the bottom of each avocado so it will sit flat.
Using a medium scoop, fill the four avocado halves evenly with shrimp mixture.
Squeeze lime juice over each salad.
Top with chopped tomato.
Serve and enjoy!