Bayhill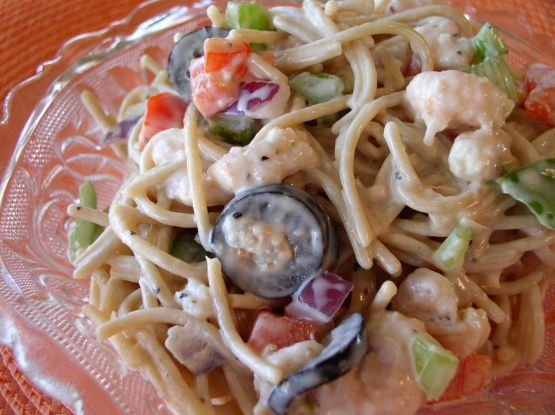 Great as a summertime side. Prep time does not include marinating or chilling.
We really enjoyed this pasta salad. It takes a little time to prepare, but the marinating and sitting times allow the ingredients to mingle and the flavors to really develop. My husband loves pasta salads with shrimp and olives in them so I knew this would be a hit with him. Oil is listed in the instructions, but not in the ingredients. I emailed SB6 to find out the quantity of oil to be used and she said that the amount should be 1/4 cup. I used whole wheat vermicelli,
half of a red bell pepper and half of a green bell pepper, extra celery, red onion, and I added some fresh ground black pepper. Thank you for sharing this wonderful recipe...it is definitely a keeper!
**Made for 2012 Football Pool**
One day before serving, cook pasta according to package directions.
In a large bowl, mix pasta, Accent, lemon juice, oil and seasoned salt.
Refrigerate and marinate overnight.
On the day of serving, fold the shrimp and remaining ingredients into pasta.
Cover and refrigerate for at least 2 hours before serving.