Shrimp Orzo Salad (Low-Fat)
Taken from Taste of Home Magazine, Light and Tasty, April/May 2006. This salad needs to chill for 2 hours minimum before serving. Adjust all the ingredient amounts to taste. Add in some feta cheese also if desired, of coarse that would increase the fat amount. A 3/4-cup serving is only about 5 grams fat without adding in the feta cheese.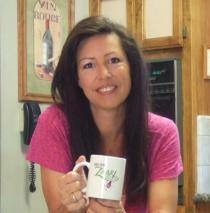 Yummy! I love this Shrimp salad. Tastes great anytime... side dish, main dish lunch or dinner! Great recipe. Thanks for sharing. ~V
Cook the pasta until firm-tender; drain and rinse under cold water, place in a large bowl.
Add in the shrimp, bell peppers, artichokes, red onion, dill and olives.
In a small bowl whisk vinegar, garlic, salt, pepper, basil and oregano; slowly whisk in olive oil; pour over the pasta mixture; toss to coat.
Season with more salt and pepper if desired.
Refrigerate for a minimum of 2 hours before serving.