Shrimp on the Barby - Barbecue Shrimp
Peter J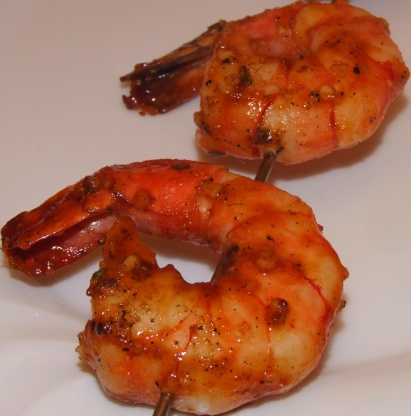 Very tasty, easy barbecue shrimp recipe. The lime and cilantro really set it off. Recipe from a grocery store marketing firm called Try Foods International. I have used http://www.food.com/recipe/ainsleys-barbecue-spice-rub-444453 for the barbecue spice with great results.

I made this for an office lunch BBQ. Everyone loved it. It was simple to make. The only thing I had trouble with was the BBQ Spice. I don't know what that is, nor did I read any of the review (until now). I simply used a spice rub that I picked up in the bulk section at my market. It was tasty.
Toss shrimp with seasoning to coat. Thread 5 shrimp each on 4 metal skewers (soak wooden skewers for at least 30 minutes) Place skewered shrimp in a glass dish.
Mix the remaining ingredients and pour half the marinade over the shrimp.
Marinate for 15 minutes.
Heat grill to medium-high, cook shrimp for 2 to 3 minutes a side, basting with reserved sauce. Cook the shrimp until opaque; be careful not to overcook.