Prep 15 mins
Cook 30 mins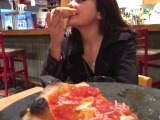 Down in New Orleans everyone knows of or has been to Mosca's restaurant. It's a dive, owned and operated by the Mosca family forever and serves absolutely THE BEST ITALIAN food in the South. The food is served family-style, the wine is served in little juice glasses, and it's way out of town. Always a fun evening filled with great food and good friends!
Directions
Heat oil in frying pan and add shrimp and spices, saute for 15 minutes, or until the shrimp turn pink.
Add wine and simmer for 10 minutes more.
Shrimp are to be peeled at tableside and served with hot, crisp bread for dunking into the sauce.
Most Helpful
Being from NOLA, it's been my experience that even shell on shrimp cook within 10 min. Has anyone found the cook time to be too long with shell/heads on? I do agree the heads/shell make all the difference in the world as far as taste - so much more umph!
Absolutely delicious! I modified a bit by peeling shrimp, using Reisling, increased wine to 2-3oz for more 'sauce' and thickened it slightly by sprinkling in flour and stirring well at the end of the simmer time. Also, served this on a bed of angel hair pasta.
A beautifully seasoned dish, really lovely. I did have to adjust down for one serving, and I used already peeled shrimp, so I carefully made further adjustments for that. I'm looking forward to making this again for my family and friends. Thanks for a keeper, Trinkets.