Ambervim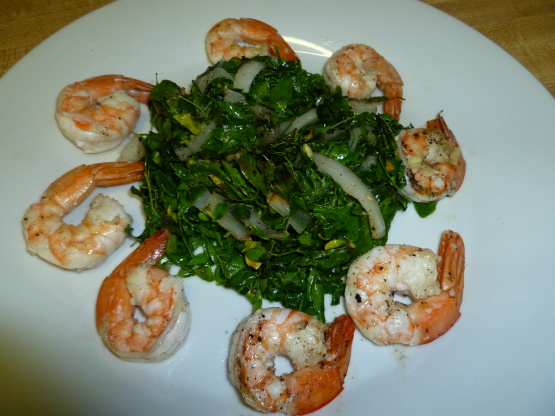 This is really healthy and quite delicious. I have a moringa tree in my back yard. If you don't use spinach or another green.
My girl-friend grew 5 moringa plants, one of which was over 6 feet tall. She had to go to NY and so I got the moringa.........yahoo!! I have done this recipe twice before I saw it here.......I'm a bit of a cook myself. Moringa is delicious any way you do it....from fresh in salads to any kind of stir fry. Just don't cook it very long. I have also dried it and frozen it and it is good any way. The word is that it has all the protein and enzymes that good nutrition requires.<br/>I predict that it will become a household item, in time.<br/><br/>Best great grandpa cook
When you skillet is hot, pour in a little oil.
Add the shrimp.
Then add onion, ginger and garlic.
When the shrimp turn pink, take them out, they are done.
Add the moringa to the skillet. Cook just enough to warm through while mixing with the onion, ginger and garlic.
Place the veggie in the middle of a plate and surround with the shrimp.
Salt to taste.
Enjoy.