Rita1652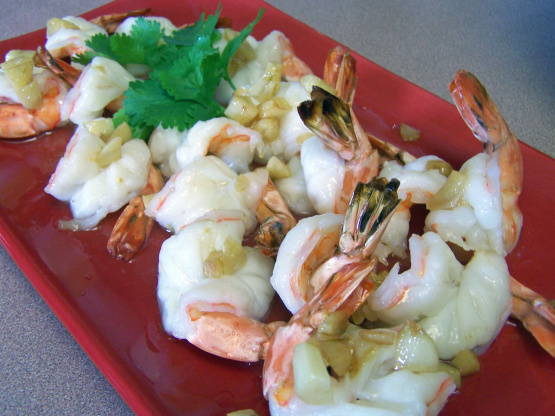 This impressive Mexican Dish is perfect for both the inexperienced cook and dyed-in-the-wool garlic devotee. Recipe is from small cookbook "Totally Garlic Cookbook" my late DM picked up one year at the Gilroy Garlic Festival...one of her favorite trips taken every year.

There is just really no way to go wrong with this recipe...especially since it is jam packed with shrimp and garlic...2 foods that were made for each other. Love Rita L's idea about dipping the bread in the butter oil!!!
Preheat the broiler. Butterfly and devein the shrimp, with shells on, by cutting along inside curve and then pressing flat. Brush all over with olive oil liberally and sprinkle with salt. Broil, shells up, for 4 minutes.
Make the sauce by melting butter with oil in small pan over low heat. Add garlic and salt and gently cook, swirling pan occasionally, until garlic is golden, about 7 minutes. Swirl in lime juice and remove from heat.
Arrange shrimp, split side up, on serving plates. Spoon on garlic sauce, garnish with cilantro, and serve hot.