Shrimp Mango and Cucumber Salad
Derf2440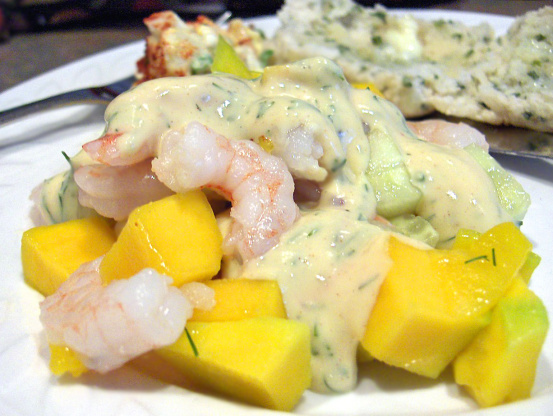 This Salad is very refreshing, Great for a summer day or with a Bar-B-Q, Fresh mangoes are hard to work with so mangoes in a jar are the way to go, make sure you wash off th syrup before slicing. Stevia is also sold in packets and 2 packets will do for this recipe. Time doesn't include standing time for vinegar mixture.

I grew stevia in the garden this year and found this while searching for something to do with it. This is a wonderfully flavorful low-calorie/fat meal. I substituted low-fat mayo. The sauce is wonderfully creamy. I can't wait to serve this to guests on a summer day.
In a small bowl add vinegar and stevia let set for 20 minutes.
Mix in mayonnaise, mustard, fresh dill and a dash or two of hot sauce.
In a large bowl add cucumber, mango and shrimp.
Pour dressing over mixture.
Serve on a romaine lettuce leaf.