Catnip46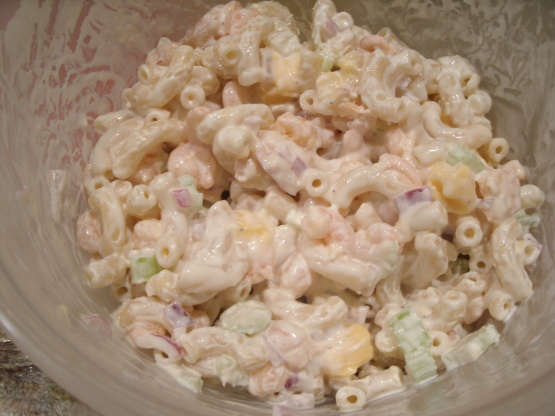 Another recipe from the 1980 version of the Grace Evangelical Congregational Church cookbook from Muir, Pennsylvania that was given to me by my Nana when I became an adult. This recipe was submitted to the cookbook by Mrs. Alice (Podgie) Meyer. She didn't specify the number of servings this recipe makes. So, I am using guesswork. Chill time is not included in cooking time.

I didn't especially care for this, I think it was the sour cream and cheese that turned me off. Without those two things I think this would make a good basic recipe. I would make this again eliminating these two things. It definitely needs salt and pepper. Made for Chef Alphabet Soup.
Cut up shrimp.
Toss shrimp,cheese, onion, celery and onion with the macaroni.
Blend remaining ingredients and toss with shrimp mixture.
Chill before serving.