Parsley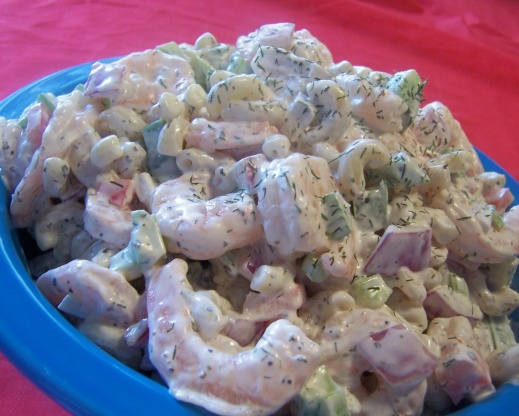 this recipe comes from a great restaurant in my area called "River's Edge" A nice dinner for a hot summer day. Serve with some crackers & fruit, dinner's ready.

I made this recently for a family reunion. Since I wasn't sure how much to make, I prepped everything and transported each measured ingredient in Ziploc baggies then put it together upon arrival. It was a huge hit! Instead of fresh herbs I got the ones in the squeeze tubes and they worked great.

For those of you who are like me and not used to making quantities, one of these makes enough to fill one of those half-pan aluminum disposable trays.
Blanch pasta in boiling water for 9 minutes.
Rinse in cold water.
In a large bowl combine all other ingredients & toss with pasta.
Cover & chill for flavors to combine.
Stir well before serving.
Makes about 2 quarts. Prep. time does not include "chilling".