Shrimp Linguine With Basil-Garlic Butter
PanNan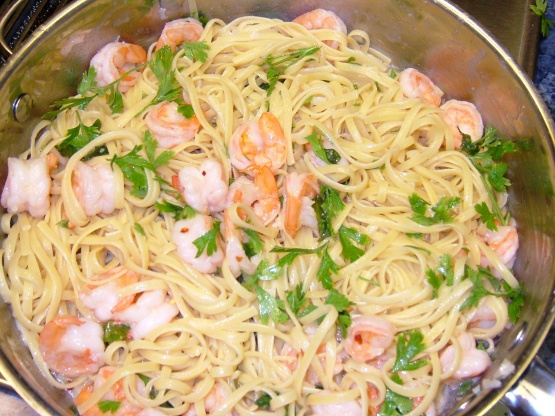 I got this recipe off of another site but modified it quite a bit to suit our tastes. It is very easy and will certainly impress company or make a nice dish for a romantic meal! The key is to use fresh herb in this dish. Serve with a good crusty bread, green salad and a nice white wine.

This dish is too bland. While it could be acceptable on a night when you lack time and need something quick, it is definitely not something for a special dinner or for entertaining. In any case, it lacks zing and needs something such as lemon juice or whipping cream for flavor (maybe some diced tomatoes?). Otherwise, it is simply too bland. Sorry but this recipe won't be repeated in our household.
Heat the oil in a skillet.
Add the shrimp and cook until just pink.
Add the garlic, basil and butter.
Saute just until butter is slightly melted.
Add wine and bring to a boil then reduce and simmer just until slightly reduced and alcohol evaporates.
Add cooked Linguini to pan and toss to coat.
Garnish with fresh parsley.