Lorac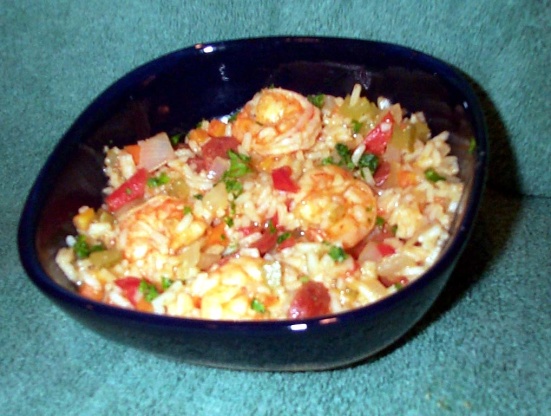 After much experimentation, I finally hit upon a formula that produced a nicely spicy dish. I figured I'd better write it down immediately before I forgot what I did!

Top Review by Lorac
Excelent! I love the fresh taste, spice level, and flavor layering of this well planned version. I made the recipe as directed except for needing to simmer on low instead of medium low. The results were perfectly cooked rice, colorful veggies with a bit of crunch and tender shrimp.The restrained use of tomatoes allowed all the wonderful flavors to shine together in a lovely balance. Thanks Aimee67 for this delicious and easy to make main dish - it's a keeper!
Toss shrimp with creole seasoning and set aside.
Saute onion, celery, and carrots in olive oil over medium high heat for about 5 minutes (until onions are translucent).
Add tomatoes, garlic, Worcestershire sauce, Tabasco sauce, and bay leaves and bring to a simmer.
Stir in rice.
Add white wine and chicken stock, stirring constantly.
Return to a simmer.
Turn heat down to medium low, cover, and cook for 15 minutes, stirring occasionally.
Add shrimp and sausage.
Cover and cook for another 10 minutes.
Remove bay leaves.
Add salt and pepper to taste.