Demandy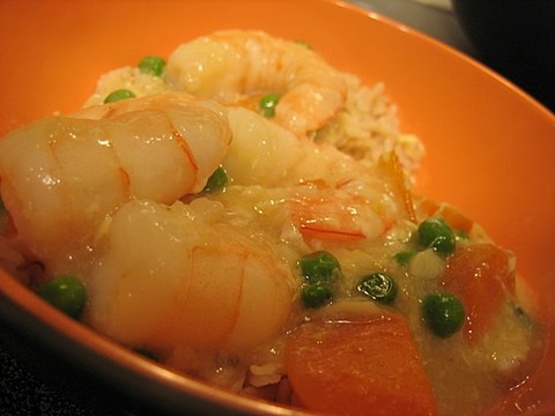 A friend from work was born in Hong Kong. He went to live with his Master at the age of four. He accepts that learning, and now teaching, kung fu is his lot in life. However, his Godfather operated an open air "kitchen" in downtown Hong Kong. Cooking became my friend's passion. This is the recipe he gave me when I asked him how to make Shrimp in Lobster Sauce. **Doubling the recipe will triple the cook time, but not affect the quality of the dish.

I made this dish and doubled the sauce. It ended up being very similar to the recipe in the Chinese restaurants. I marinaded the shrimps a little longer about 90 minutes which brought out the flavors of the shrimp and white pepper. Thanks for the recipe!
While the rice is cooking, make your marinade and marinate the shrimp.
Just before beginning the cooking process, whisk corn starch into ½ cup of water.
In a wok on high heat, combine oil, garlic, carrots, frozen peas and rice wine.
When garlic becomes fragrant, add marinated shrimp, salt, pepper, sugar and water.
Bring to a boil.
Push shrimp towards the rim of the wok and add cornstarch mixture.
Turn off heat.
Pour egg into wok with a circular motion.
Mix all ingredients in the wok.
Serve on a bed of rice, which will take 45 minutes longer to cook than this dish.