Shrimp in Ginger Coconut Cream
vrvrvr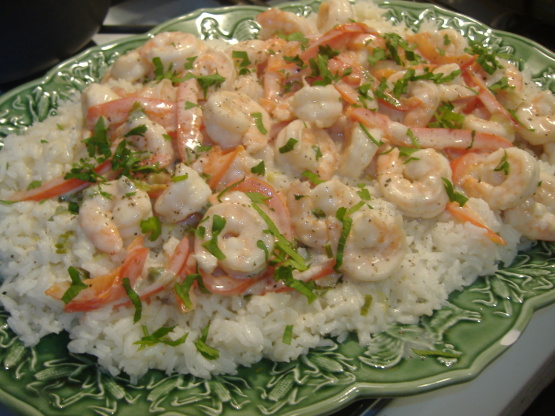 This recipe was originally from "The Simpler the Better: Sensational Home Cooking in three Easy Steps" but I found it in our local newspaper. You can use precooked shrimp and add it after the sauce has thickened. Serve over cooked rice.

Top Review by vrvrvr
This was a mild dsh, which left us somewhat wistful for more flavor. I added green onion and 2 minced garlic cloves at cooking step #2, and was mindful to salt and pepper properly along the way... but it was just this side of bland. The sauce needed a little help thickening (I used cornstarch dissolved in a bit of chicken stock). I think some curry would warm this up and bring out the coconut flavor more. The red pepper in this was great. With some punching up of spices this would be a more satisfying dish -- still quite pleasant over jasmine rice with a big salad.
Heat oil in a large skillet over medium heat.
Add red pepper and ginger and cook 30 seconds.
Add shrimp and coconut milk, cook 3 minutes or until shrimp are opaque inside and pink outside.
Remove shrimp and red pepper with a slotted spoon and reserve.
Bring sauce to a boil over medium high heat, cook, stiring occasionally, 3-5 minutes or until sauce thickens.
Season with salt and cayenne, remove from heat, stir in shrimp and red pepper.
If desired, garnish with cilantro and lime wedges.