Shrimp in Ginger Butter Sauce
Parsley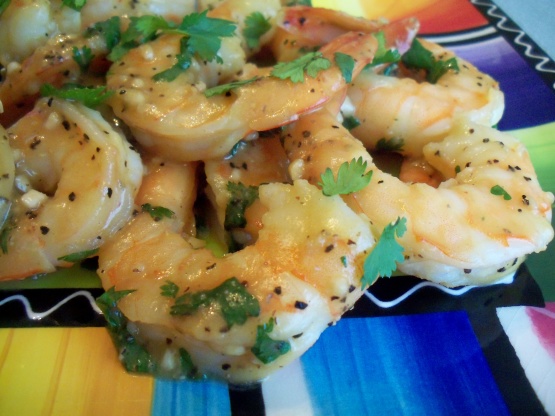 A completely delightful dish for two or a really smart appetizer! Ginger and cilantro liven this French classic fusing it with a Southwest Asian flare. Discovered in Gourmet Magazine, 9/08. Thank you to Vicki in Kansas Brown for the garlic suggestion.
This was one of those dishes where the more I ate it, the more I liked it. I made this with bay scallops and I'm going to have to make it with shrimp, 'cause I'm not sure if what I ended up with was anything like the original. One change I would make is to flavor the butter with slices of ginger and garlic and then remove them before adding the seafood. I started with my heat fairly low to cook the garlic and ginger but in turning it up to add the scallops the garlic started to overcook so I scooped it all out and added a little more butter to the pan. If I hadn't removed it the garlic would have burned which would make it bitter. Adding the scallops they released quite a bit of liquid which I poured off and set aside so the wouldn't just boil. At the point the scallops were half done - less then 2 minutes I removed them from the pan, then added the sherry and cilantro (I had to reduce the amount of cilantro because of my DH) and added back the ginger & garlic, and the scallop liquid. I reduced this all down to thick consistency the poured it back over the scallops. At this point the dish was good, but I thought it needed something, a little fresh lime juice brighted the whole thing and brought out the cilantro without it being overpowering. At the end I just wanted a nice crusty piece of bread to dip into the leftover sauce! Thanks for posting Mama, I'll be making this again. Made by one of the Unrulies Under the Influence for ZWT6
Heat butter over medium high heat in a heavy skillet until foam subsides, then saute ginger and garlic for about 30 seconds.
Pat shrimp dry and season with salt. Add to ginger and saute 2 minutes.
Add sherry and saute 1-2 minutes more or until shrimp are just cooked through.
Remove from heat and stir in cilantro. Season with additional salt and pepper if desired and serve.