BarbryT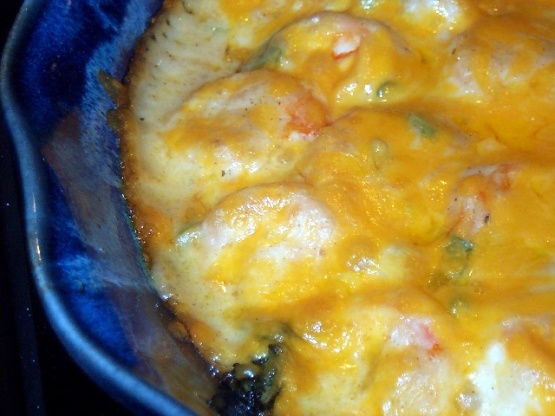 Two of my favorites...shrimp & spinach, topped off with a cream sauce. One of the first recipes I ever made for a boyfriend. The boy is long gone, but I still love the recipe.

By far, the best Shrimp Florentine recipe I have ever made. I added some shredded parm to the sauce. Not too much. I topped with some grated Gruyere and Sharp Cheddar. I thought the sauce was a bit thick, but as it baked in the oven it started bubbling. I think the leftover moisture in the spinach helped. I did use raw shrimp. The sauce with the spinach is smooth and silky. The shrimp cooked to perfection. I baked it in individual ceramic containers usually used for soup, like French Onion.
Preheat oven to 350 degrees.
Thaw and drain spinach.
Spread spinach in a pie pan and top with shrimp.
In a saucepan, melt butter and stir in flour.
Then gradually add milk, wine, scallions.
Cook on low, stirring
Add salt, pepper and enough paprika for a rosy color.
Pour sauce over shrimp and sprinkle with cheese.
Bake uncovered for 30 minutes or until bubbly.