Shrimp Fettuccine Alfredo over Spinach Noodles
lazyme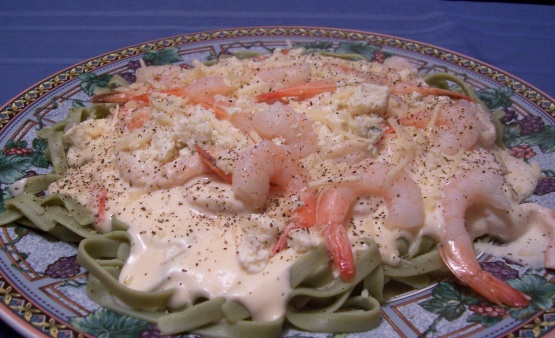 This was the only dish my father ever made, but it was so rich tasting, he fooled everyone into thinking he could cook! His trick was a bit of blue cheese in the alfredo sauce. I prefer shrimp in this dish, but chicken would work as well. If you opt for shrimp, use jumbo large shrimp so that they can stand-up against this thick sauce and spinach noodles. This dish is fairly simple with few ingredients... but make sure that your serving dishes, tools and ingredients are prepped beforehand in order to help with fast timing. Shrimp and fresh pasta are easy to over-cook (Or is that just me?).
Get your pasta water boiling and add a pinch of salt.
In a saucepan, warm (or create) your alfredo sauce over med-low heat, stirring occasionally. (About 7-10 minutes).
Add a pinch (about 1 - 2 tbl depending on taste) of blue cheese to your alfredo sauce, stir and turn the heat down to low.
Add your spinach noodles and cook according to package instructions.
In a saute pan, melt tbl of butter and begin to lightly brown your shrimp over med to med-high heat.
Salt and Pepper the shrimp and remove from the heat when cooked. Keep them warm in the pan.
Quickly drain and plate the fettuccini noodles.
Pour the alfredo sauce over the noodles, sprinkling blue cheese to-taste over the top.
Add your shrimp and serve with Freshly grated Parmesan cheese and cracked pepper!