PaulaG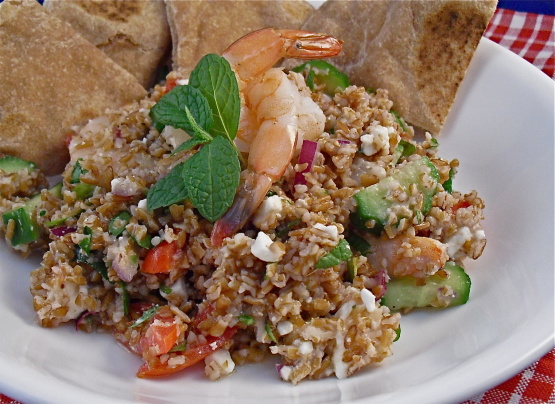 I saw this recipe in a Women's Health magazine, tried it, and absolutely fell in love with it. It's the perfect summer salad - super healthy, not at all heavy and really fills you up. It says that its 4 portions but i think it's actually only 3, especially if you're eating it as a main dish. Try it, i promise you'll love it!

Here's another wonderful salad that I'll be adding to my summer-time salad rotation, & another time I'd double the recipe so we would have left-overs for another day! Really enjoyed the combo of shrimp & the bulgur! Thanks much for sharing the recipe for this unusual & nice salad! [Made & reviewed for one of my adoptees in this Spring's Pick A Chef]
In a saucepan, combine bulgur, water and 2 tablespoons lemon juice; bring to a boil. Cover and simmer until tender, about 12-15 minutes Drain any excess water and let cool.
Place chopped shrimp in large serving bowl. Sprinkle with 2 tablespoons lemon juice and fresh ground pepper. Let stand for 5 minutes.
Stir in cucumber, tomatoes, onion, parsley, oil and feta. Add salt, pepper, and lemon juice.
Stir in cooled bulgur and toss.
Enjoy!