Shrimp-Eggplant Beignets With Remoulade Sauce
Rita1652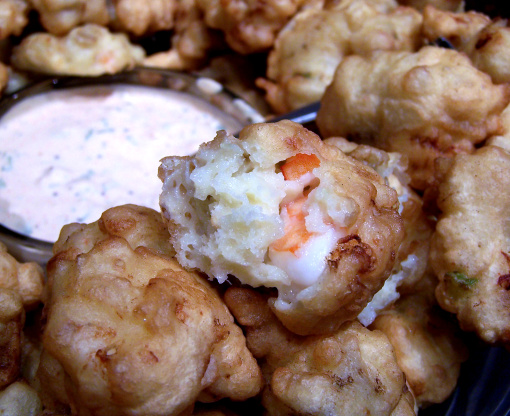 A cajun dish. A deep fried yummy Shrimp-Eggplant Beignets served with my sauce. Or use your own sauce. A big hit at my house. Adjust the oil so it not too hot when cooking. The eggplant gives the dough an extra creaminess. Go ahead and salt, rinse and dry your eggplant if you normally do it. I never do and I enjoy the slight bitterness eggplant has. To each your own! ;)
Remoulade Sauce-- Whisk together all ingredients. Cover and chill 1 hour.
Beignets-- Heat 2 tablespoons oil in a large skillet over medium-high heat.
Add eggplant and next 5 ingredients; cook 5 minutes or until vegetables are tender, stirring occasionally.
Add shrimp; cook 1 minute.
Remove from heat, and cool.
Pour oil to depth of 3 inches in a Dutch oven; heat to 360°F.
Whisk together eggs and next 3 ingredients; whisk in flour just until moistened.
Fold in eggplant mixture.
Drop batter by heaping tablespoonfuls into hot oil.
Fry beignets, a few at a time, 3 minutes or until golden, turning once.
Drain on paper towels.
Serve immediately with Remoulade Sauce.