PaulaG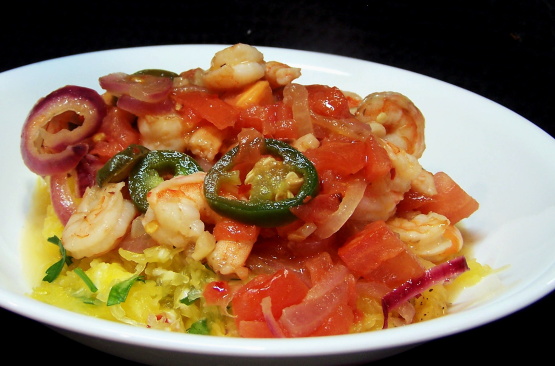 A quick and easy meal with a spicy kick.

This is sooo good. I made the olive oil/whole wheat pasta version and it was marvelous. We had fresh roma tomatoes, onions and jalapenos from the garden. This is going to be a regular on the it's late/I'm tired menu.
In a large saute pan, melt butter over medium heat.
Saute onion and jalapeno about 3 minutes.
Add garlic, crushed red pepper and shrimp and cook until shrimp is opaque, about 2 minutes.
Add tomatoes, lemon juice and white wine and reduce until sauce thickens, about 2 minutes.
Divide cooked linguine into two bowls and spoon sauce over.
Serve immediately and pass grated Parmesan cheese.