Kim127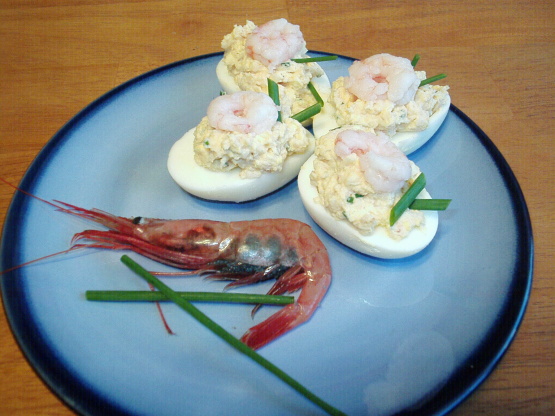 The shrimp I can buy here, in the Netherlands, are very tiny and have a good flavor for this recipe.

A beautiful appetizer, very elegant, great recipe if you're trying to impress people! The yolk mixture was way too dry, which is the only reason why I am rating this 4 stars. I have to add a few more tablespoons of mayo. They were a hit at our snooty cousin's easter celebration this year!
Chop the shrimp, except for 12, which will be used for garnish.
Half the eggs remove the yolks; mix them with the shrimp and the other ingredients.
Check the seasoning.
Fill the eggs with the mix and garnish each one with a shrimp.
Serve on a lettuce lined platter/plate.