PaulaG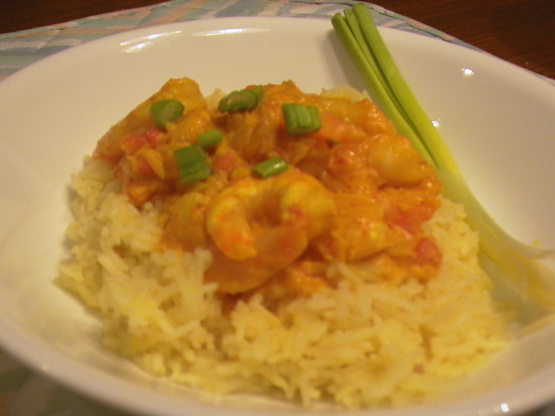 I adapted this from a recipe I got from a former professor of mine. Serve over rice.

Very good. Used grated frozen ginger root instead of ground, and used an organic tomato sauce instead of tomatoes. I didn't have to put the sauce in a blender. It was great, DH loved it. Thanks!
About 30 minutes before serving, in blender or food processor, blend together yogurt through garlic on the ingredient list at medium speed until smooth.
In a large skillet over medium heat cook shrimp in 3 Tbs hot oil until just tender, approximately 5 minutes, stirring constantly.
Add more oil if necessary.
Remove shrimp from skillet with a slotted spoon; set aside.
In remaining oil (again add more if necessary), cook onion until tender, about 5 minutes.
Stir in yogurt mixture.
Heat to boiling, then reduce heat to low.
Simmer 5 minutes or until the mixture is slightly thickened, stirring frequently.
Return the shrimp to the skillet.
Cook until heated through, about 3 minutes.