Shrimp Creole Soup for Crock Pot
This is an easy, healthy, flavorful and spicy soup. It is an impressive first course for company if you use large or jumbo shrimp. Alternatively, you can use tiny shrimp and the cost will be much lower but the taste will be the same. It is a regular main dish for my family (using smaller shrimp) and for my annual 'soup party'. I found this recipe on southernfood.about.com and have improved upon it (in my opinion) since first posting by adding vinegar, red wine and Worcestershire sauce. These ingredients are noted as "optional'.
Directions
Combine all ingredients except shrimp in crockpot. Cook 3 to 4 hours on HIGH or 8 to 10 hours on LOW.
Increase heat to HIGH and add cooked shrimp 15 minutes before serving.
Most Helpful
This really could not be any easier to make and the flavour was very good. I made the recipe as written and let the flavours blend over night. Today, I reheated the soup and decided that even though the flavour was good, it needed to be a bit more substantial for us. So, I decided to add some cooked brown rice and some corn to the soup and then I thickened it by adding a half can of tomato paste. I did use all of the "add in" options you indicated as well - red wine and red wine vinegar and the worcestershire and I think these changes did add to the original recipe. All in all a great little recipe that we will repeat. Made for Spring PAC 2012. Thanks Ellee!
This was a very good base soup. They flavor was great (we added more like 32 drops of tabasco), but at 1st tasting my DH asked what was missing. He suggested making some rice and adding it and that did help. But basically if you like spicier you'll have to tweak this a bit, as we do. Made for PAC Spring 09. Update-I had this for lunch today, after it sat overnight in the fridge. It's definately a 5 star soup! Seems like it got better overnight, the flavors all kicked in. Mmmm...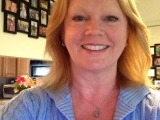 This was a welcome supper on a cool and rainy day. I flavors blended very well. Of course it simple to make in the crock pot and the aroma is lovely once it really gets going. Since the heat comes from Tabasco it's easy to adjust. DH got a bowl without any and I added a few shakes to mine. I used smaller shrimp and they were fine in the soup. This will be great in the winter.