Ms B.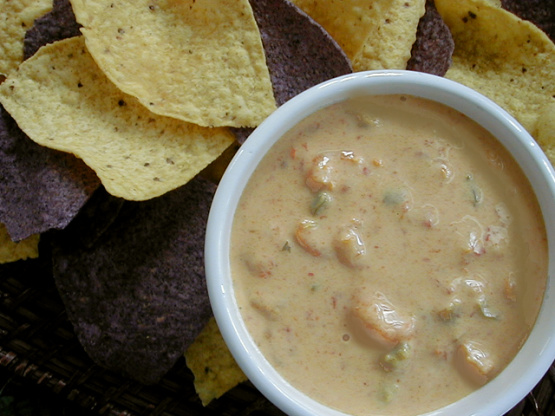 Chile con Queso made with Shrimp!! This is a winner at our house! I sometimes use the smaller salad shrimp (purchased frozen at Sam's club) and don't chop. Add more jalapeno or hot sauce, to taste.

Ms. Bold I am so sorry I didn't give this recipe a 5 star years ago (I obviously wasn't a very experienced cook). This Shrimp con Queso was FABULOUS. Thank you so much for posting such a wonderful recipe.
In a medium saucepan, heat the oil over medium heat.
Add the onion and jalapeno and cook, stirring often, until the onion is translucent, about 4 minutes.
Add the garlic and cook until fragrant, about 1 minute.
Add the tomatoes and cook, stirring often, until they give off their juices and they evaporate, about 5 minutes.
(The mixture should look somewhat dry.) Add the milk and bring to a simmer.
In a medium bowl, toss the Monterey Jack and Cheddar with the cornstarch.
Stir the cheese into the milk mixture, a handful at a time, stirring with the hot sauce.
Transfer to a mini crockpot or fondue pot.
Serve warm, with the tortilla chips for dipping.