Parsley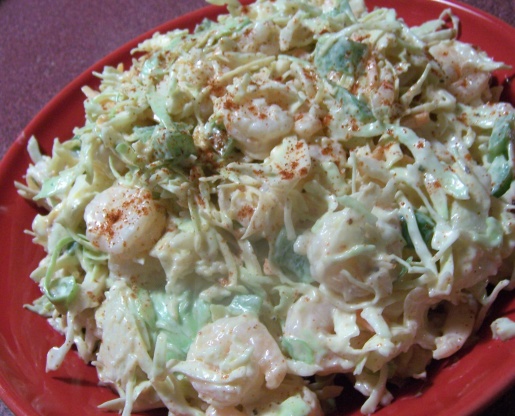 A few years ago my husband and I were in Kemah, and with our meal, we were served regular coleslaw with bits of shrimp in it. The slaw was good but we felt that it needed something to spice it up, so I came up with my own recipe. During the hot summer months we enjoy it as a light meal with toasted garlic bread, on these occasion I use 2 pounds of shrimp. Every time I serve this salad it is a big hit and I never have any left over. In order to save preparation time I have the grocer steam the shrimp in Cajun spice, while I do the rest of my shopping. NOTE: The dressing will taste stronger before you toss it with the salad, the salad dilutes the taste of the dressing.

Excellent cole slaw base. Tried a Chesapeake regional twist with this recipe. First, I steamed the shrimp in Old Bay and substituted Old Bay for the Tony's in the dressing. Then I grilled a few Roma's Old Bay sausages and put those on some split top rolls. Topped them with the slaw and Dijon. Received raves.
1

(1 lb) bag Coleslaw (cabbage and carrots)

1 -2

lb cooked shrimp (small to medium)

1

cup chopped bell pepper (green, red or both)

1

bunch chopped green onion (all of white and half of green tops)

DRESSING INGREDIENTS

1

cup mayonnaise (I use Kraft Fat Free)

4

tablespoons lemon juice

1

tablespoon Tony Chachere's Seasoning

3

tablespoons prepared horseradish
Clean cooked shrimp and break in half if large. Chop bell peppers and green onions. In large bowl combine slaw, shrimp, peppers and onions.
In separate bowl make dressing, stirring until well blended. Pour over salad and toss until all of salad is coated. Store in refrigerator until ready to serve.