Sarah L.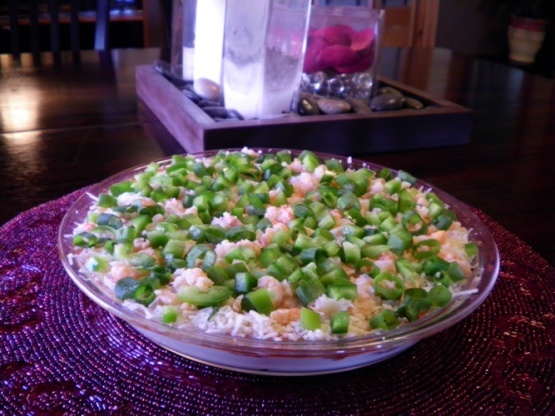 This is from an old Best of Bridge cookbook that has been served at many parties and is always the first thing to be gobbled up. If you run out of crackers people will eat it with spoons! You can use light versions of cream cheese and mayo but I can't tell you what the results would be like. Feel free to add another can of shrimp if you want it shrimpier.

This was very good. I made my own cocktail sauce, and it separated a bit, leaving water around the cream cheese layer. It still tasted good, but didn't look quite so pretty. I think I would cut down the cocktail sauce to 1/2 cup as well, as a previous reviewer suggested. It overpowered the dish a bit. I will definitely make this again though - it was delicious!
Mix the cream cheese, sour cream and mayo together till smooth. Spread onto a 12" serving platter or pie dish.
Cover evenly with seafood sauce.
Sprinkle evenly with mozzarella, then with shrimp.
Top evenly with green onion, tomato and green pepper.
Cover and chill until ready to serve - any kind of cracker or tortilla chips will be good.