luau9930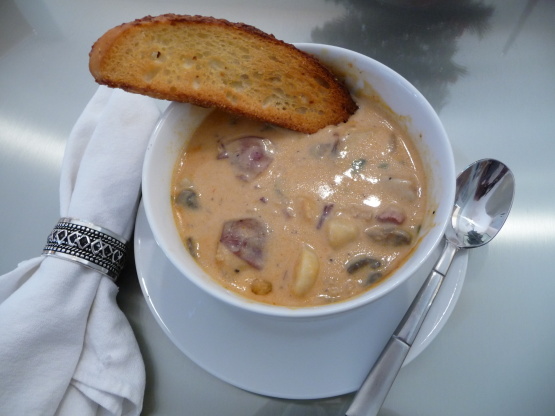 This is a very rich, great tasting chowder. Perfect for fall and winter, or if your in the mood for some comfort food. Note: I've only used smoked paprika in this dish, not sure how regular paprika will taste, (if you decide to include it) it is optional...**This recipe has been updated, thank you to my reviewers :D

I've been searching for a different take at chowder, the mushrooms and quasimodo take on Italian soup caught my attention. After making a few addition/alterations, which I'll explain, the original above-par recipe has been transformed into the most amazing chowder I've ever had... and being from Seattle that's an audacious statement. Do yourself a favor, make the following adjustments, your taste-buds will thank you.

The following changes...
2 cups Shrimp Stock: Save the shells and make your own shrimp-stock, a very simple process and one of the major flavor ingredients.
3 oz. Pancetta: Most chowders use bacon, I prefer a more flavorful pancetta.
6 Red Potatoes: Leave the skin on, gives the chowder a more rustic old world feel.
3oz. Tomato Paste: Again, more added flavor.
Add 2-1/2 more cups of milk. The 1/2 cup of flower is way too much for the original recipe, it nearly made the way too thick chowder bear a resemblance to claim and shrimp dip.
By adding the additional liquids your chowder takes on a silkier soul, it also adds to your servings (4-6 to 6-9), no worries, this chowder freezes well, a couple people even said it had more flavor if that's possible.
Enjoy!
Boil potatoes in separate pot about 10 minutes, drain, and set aside.
In a large pot melt butter on medium heat.
Add onion and garlic, do not brown and cook until onion is iridescent.
Slowly stir in flour & half and half.
Add mushrooms, potatoes, white wine, and milk or water.
Drain the clam juice into the pot and set clams to the side.
Add paprika, bay leaf, salt & pepper.
Simmer for 10 minutes.
Add clams & shrimp and continue to simmer for another 8 - 10 minutes.
Add parsley right before serving.
and -- your done!