Annacia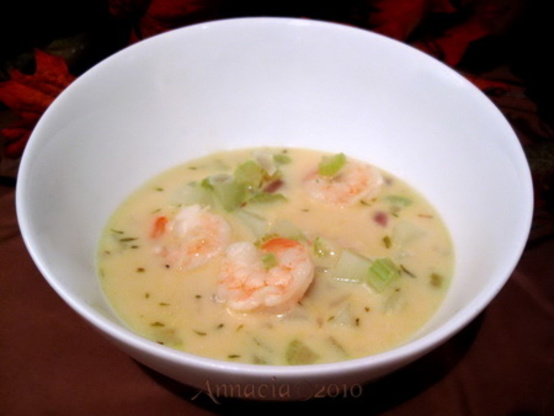 I love shrimp, and I love soups. This combines both loves quite well, an offers a great alternative to the usual soups and shrimp dishes.

Great tasting chowder. I love using the clam juice, it gives it a real taste of the sea. The only thing I would do differently is to add some cornstarch to the milk (I used fat free evaporated milk) before adding it to thicken the soup a bit. This is sure easy to make and a plus is that it used things I usually have on hand.
In medium saucepan, melt butter. Saute celery and shallots for 5 minutes.
Add clam juice, potato, bay leaf, and thyme. Bring to a boil. Reduce heat to low, cover, and simmer until potatoes are tender (about 10 minutes).
Add half-and-half and shrimp. Simmer over low heat until shrimp are cooked through, about 10 minutes.
Season with salt and white pepper to taste.